Workers at Lyttelton Port and their union, the Rail and Maritime Transport Union (RMTU) are continuing to take a stand against the import of "blood phosphate" from Western Sahara sold by the colonial occupier government.
Western Sahara, the last formal colony in Africa, has been occupied by Moroccan forces ever since Spanish colonisation ended in 1975. The ongoing national-liberation movement led by the Polisario Front has led to the establishment of the Sahrawi Arab Democratic Republic, which is now fighting colonial forces for full national liberation.
A ship chartered by Ravensdown, the Federal Crimson, is currently unloading the last of 51 tonnes of phosphate at Port Chalmers, after earlier docking in Napier and Lyttleton.
After initial opposition from port management, the RMTU has boarded the ship and lodged formal protest with its captain at each docking.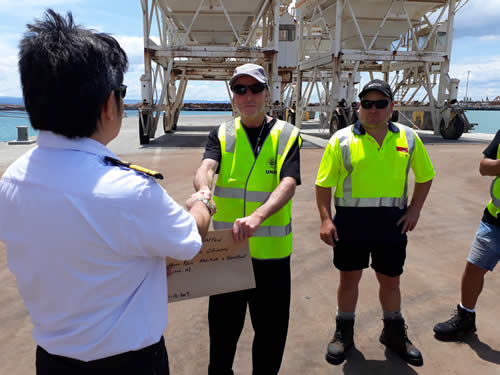 Wayne Butson, General Secretary of the RMTU, said in a media release that "our fellow unionists in Australia, the Maritime Union of Australia, have used this method to register protests against Blood Phosphate imports, to us it seems a relatively mild and pragmatic way to exercise a fundamental democratic right "
"We have been advised that the cargo of the Federal Crimson may in fact be illegal and that under international law port workers have the right to refuse to berth or work ships carrying such cargo" continued Butson.
The workers' movement has been fairly unanimous in support of the Sahrawi national-liberation struggle. Last month, the Council of Trade Unions passed a resolution condemning the Moroccan colonisation of the Sahrawi Arab Democratic Republic and the import of "blood phosphate" into New Zealand. Also last month, the New Communist Party met with the Polisario Front delegation at the Anti-Imperialist Meeting of Solidarity in Havana and pledged to deepen our practical ties and internationalist solidarity.
During a visit to New Zealand, the regional representative of Polisario told Radio New Zealand that since the occupation of the Sahrawi Arab Democratic Republic has been condemned by international law and the United Nations, New Zealand should ban imports of "blood phosphate".
The Rail and Maritime Transport Union have pledged further industrial action against this practical support for colonialism.
-NCPA Workers Star Reporter